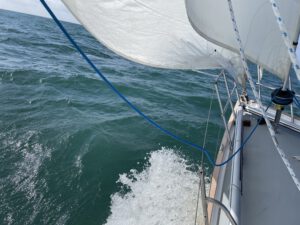 In dieser Folge erzähle ich vom Finale, dem zu Wasser lassen und den ersten Segelfreuden!!!😬💪✌️😎⛵️
17 ist meine Lieblingszahl und in meinem Freundeskreis so eine Art Running-gag seit mittlerweile 3 Jahrzehnten… auch als Startnummer hab ich sie mir ausgesucht die 17.
Und 17 Folgen meiner kleinen Serie hab ich gebraucht um ein schwimmendes und segelndes Boot zu besitzen. Und jetzt geht es richtig los!!
Richtig knackige Arbeitstage mit einem Haufen an Listen habe ich hinter mir. Die Listen habe ich zum Schluß dann nur noch in Prioritäten unterteilt und diverse Tasks von Liste zu Liste verschoben.
Aber soweit ich das gerade abschätzen kann ist mir nichts, das an Land erledigt werden mußte, durch die Finger gerutscht.
Enjoy
You dont understand my language? Do you want to read the subtitles in your language?
Then:
1.) watch this video on youtube.com.
2.) activate subtitles (click the left button at the bottom right of the screen)
3.) click on "Settings", then on "Subtitles" (the second option from above), then on "Automatically translate" (the lowest option) and select the desired language.
Tu ne comprends pas ma langue Voulez-vous lire les sous-titres dans votre langue?
Puis:
1.) regardez cette vidéo sur youtube.com.
2.) activer les sous-titres (cliquez sur le bouton gauche en bas à droite de l'écran)
3.) cliquez sur "Paramètres", puis sur "Sous-titres" (la deuxième option ci-dessus), puis sur "Traduire automatiquement" (l'option la plus basse) et sélectionnez la langue souhaitée.